Le Sein d'Hélène
Semi-firm cheese
Made from a blend of cow and ewe's milk

Le Sein d'Hélène (or, "Helen's Breast" in French) is made with milk from La Moutonnière's flock of dairy sheep and Marie-Claude and Stéphane Cloutier's herd of Jersey cows. Both farms are nestled in the mountains of Ste-Hélène-de-Chester.

The unique shape of this cheese represents the hills of the village. It's name unites the symbolism of La Moutonnière's new cheese plant, located in the heart of the village of Ste-Hélène-de-Chester and is a play on the consonance of the words Ste-Hélène (Saint Helen) and Sein d'Hélène (Helen's breast) in French.

The green label is used for cheese made from the milk of animals grazing mountain pastures during the growing season. A label depicting a snow-covered landscape is used for cheese made from animals fed on hay during the winter months. Both labels are the work of Richard Caisse.
Aged for 2 to 4 months.
Natural rind.

This is a cheese that blends the rich and creamy flavor imparted by ewe's milk with a mildly acidic taste.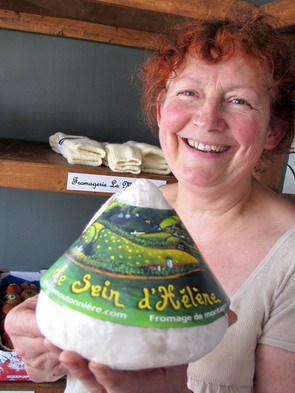 Gracieuseté de La Nouvelle Union